At other physical therapy "centers", you'll see a big staff…lots of assistants, aides, technicians and even students. It'll be a busy place. The physical therapist on duty may be monitoring several patients at once or shouting instructions from across the room or "checking in" with you only briefly during your session. Not here.
At Prime Sports Wellness Physical Therapy, you get the VIP treatment. Eugene Jang knew he wanted something better than the high-volume assembly line approach for his patients. So he founded Prime Sports Wellness with a boutique approach. This means you don't share your time with a roomful of patients. You aren't supervised by aides or techs. The physical therapist doesn't make a "cameo appearance". Your time in physical therapy is truly YOUR time…where you and your Physical Therapist work one-on-one as a team. This gives your PT the opportunity to gauge your body's every reaction to therapy and continually fine tune the treatment to your injury. And you are empowered to take part in your therapy, able to give the PT feedback about your body's response.
This individualized and vigilant approach to care means maximum results in minimal time. Instead of going through the same motions week after week or even risking further injury because of a lack of supervision, our complete focus on you means healing will happen faster. And isn't that why you're here? To get back to the life and activity you love as quickly as possible? After all, choosing Prime Sports Wellness Physical Therapy you've chosen to live your life to its maximum potential. Like a real VIP.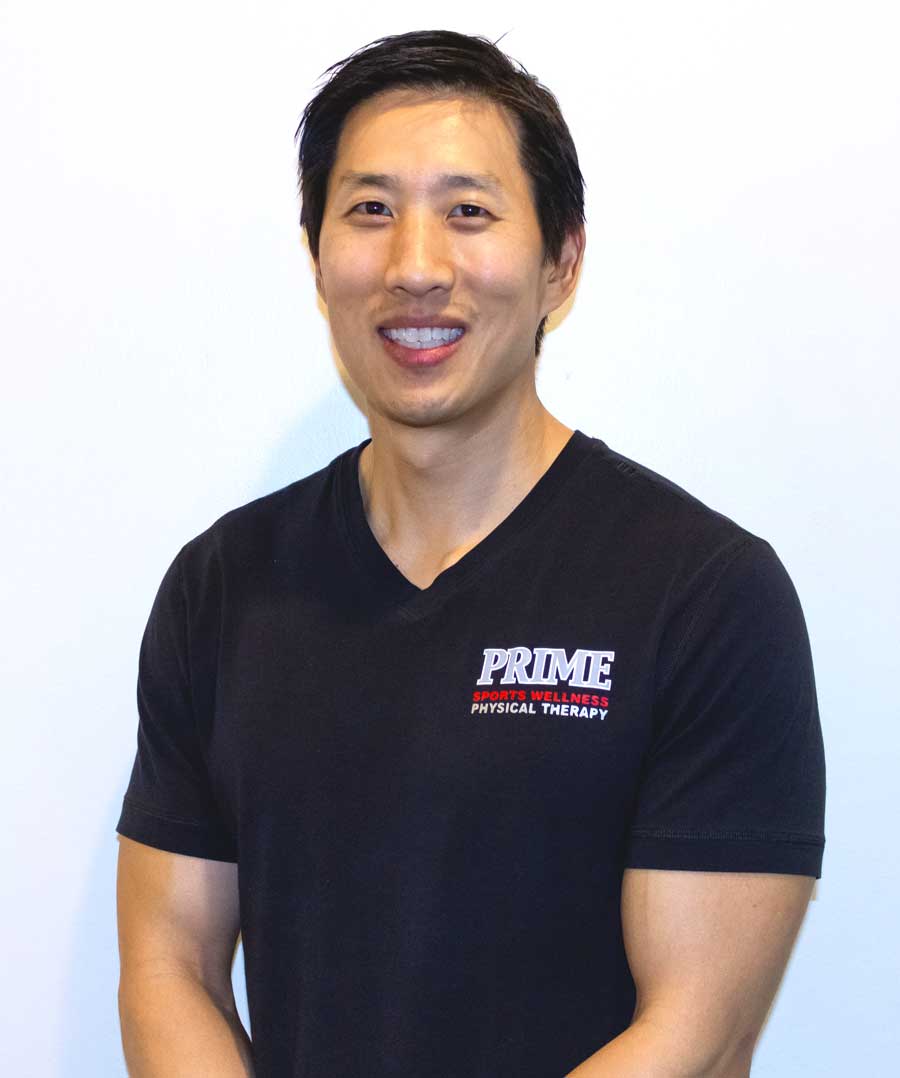 About Eugene Jang
MS, PT, CSCS, COMT, Cert. DN, Cert. SMT, Dip Osteopractic, Dip Manipulative Therapy
New York-raised Eugene Jang's training and titles in Physical Therapy can fill pages.
He graduated from Columbia University with a Masters of Science in Physical Therapy after getting his bachelor's in Biology. His commitment to mastering the newest techniques for virtually every part of the body means he is trained in dozens of specialities, from spinal manipulation to strength & conditioning, dry needling to the advanced subspecialty of Osteopractic for pain, neuromuscular and musculoskeletal conditions. Click HERE if you want to read the full list.
But we think the most important thing you need to know about Eugene Jang is his belief in a whole body approach — for all ages & all stages. He knows the same injury doesn't accept the same treatment from one body to the other. There is no "one size fits all" method. And in seeking to heal your physical injury, he'll take into consideration your age and goals, your physical/athletic abilities, even your personality!
Beyond the clinical diagnosis, beyond symptoms, this whole body approach has allowed Eugene Jang to not only heal injuries, but also find the root cause of pain in many of his patients.
This elite, individualized approach works for senior citizens, weekend warriors, student athletes, pro players, and even celebrity clientele who value the high-quality and privacy Eugene Jang offers at Prime Sports Wellness Physical Therapy.
Eugene Jang's expertise has also made him a trusted resource for Men's Health magazine, which has frequently tapped him as a contributor to demonstrate safe, effective exercises.
Do you need to schedule an appointment?